Disconnected ERP systems, siloed information, sluggish manual procedures, lack of efficiency, inability to handle growing transactions and inventories, lack of data protection, and other issues plague the MSME sector, which is considered the backbone of the Japanese economy and most other economies of the world. Small & Medium Businesses (SMBs) must have an appropriate ERP solution to solve these problems and manage the full range of their business activities in an efficient manner. This is where Sysamic can assist you by offering Microsoft Dynamics 365 Business Central as a smart option for success for your company (MS D365BC).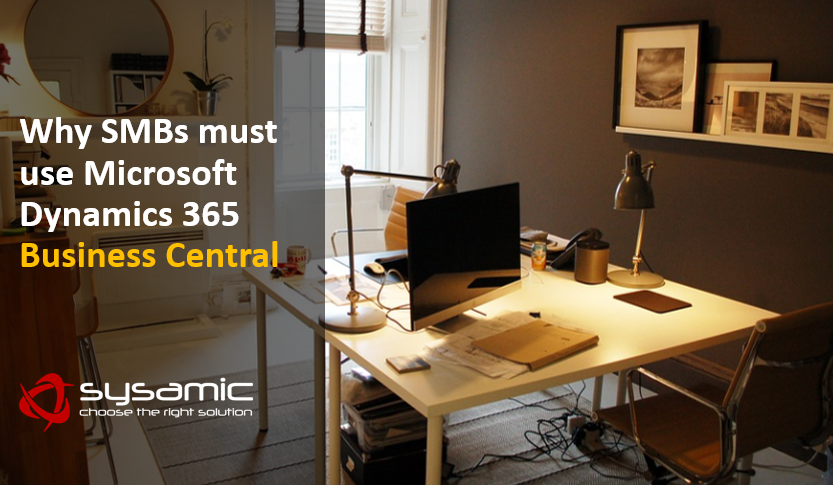 In this blog, we will look at how SMBs can leverage technologies like Microsoft Dynamics 365 Business Central and embark on a journey of rapid growth!
Easy to Use & Configure
Despite the popular assumption among small businesses that technology is difficult to use, MS Dynamics 365 Business Central is simple to use and apply. It can also be deployed in the cloud or on-premises, depending on the nature of the business. It can be used on any device and the user experience will not be affected. Business Central recognizes the needs of small businesses and provides customized, "easily adapted and expandable solutions" to meet their needs. It handles local regulatory and commercial needs, such as local taxes.
Efficient Management of Business
It provides enterprises with an Integrated Business Platform by integrating several modules such as Sales, Marketing, Finance, Supply Chain, Customer Service, and so on a single platform. The comprehensive database assists SMBs in better analyzing and reviewing their business's health and, as a result, realigning their plans as needed. At the same time, it eliminates organizational obstacles, increases transparency, and allows them to conduct business without silos.
Unlock Productivity
SMBs benefit from MS D365 Business Central's automated tasks and workflows, which help them grow. Similarly, MS Office 365's seamless integration preserves familiarity while simplifying business operations. Not only that, but it also makes Power BI Charts (Business Intelligence Charts) available to them, complete with real-time dashboards and KPIs. This boosts not only their efficiency but also their total production.
Streamline your Financials
SMBs can better handle their financial data using Business Central's AI-driven analytics, which keeps all key statistics like net income, cash availability, sales profitability, inventory value, and so on in one place. It facilitates the management of multiple data sources and allows them to effectively monitor their financial performance. It "accelerates financial closing and reporting" by providing priority insights on problems such as late payments. This improves financial transparency and allows for more beneficial financial decisions.
Effective Inventory Management
SMBs can quickly access all essential data about their inventory, including shelf-life, thanks to the integrated database and automated work procedures. It assists them in reducing overstocking and stock-outs by offering insights into shifting client demands and capacity constraints. Simultaneously, sophisticated cloud analytics on sales forecasts and projected stock-outs enable them to refill their stock based on need and availability
Risk Mitigation & Business Sustainability
It streamlines the management of several warehouses by automating warehouse operations. SMBs can utilize barcode scanners to receive inventory in their warehouse. This cuts down on the time it takes to process orders and receive goods. They can also use system-directed receipts, put-away, picks, and shipments to trace the movement of each inventory item.
It supports the EDI (Electronic Data Interchange) interface, which improves supply chain efficiency by allowing for automatic orders. It ensures that orders are processed automatically and sent directly to the warehouse to meet delivery dates.
Optimize Warehouse Operations & Supply Chain
By limiting risks, Business Central contributes to the long-term viability of SMBs. Businesses may get real-time insights from AI-powered insights, Business Intelligence charts, Intelligent Cloud Insights, and other tools. This allows them to spot trends quickly and readily. They can devote more time to analysis and aggressive action by spending less time seeking.
Personalized Customer Service
SMBs can use MS D365 Business Central to gain a comprehensive understanding of their consumers and improve customer service by providing personalized experiences. This not only helps them establish a reputation in the industry but also increases sales and fosters client loyalty.
Geographical Expansion
SMBs may grow their business operations abroad by using Business Central, which supports localized tax requirements, numerous currencies, exchange rates, and much more.
Simply said, Microsoft Dynamics 365 Business Central supports small businesses in the age of "Digital Transformation" by enhancing efficiency, expanding markets, and contributing to total growth.
About Sysamic:
Sysamic is a modern business consulting company focused on technology, design, and business transformation. In Japan, we have over 20 years of experience supporting businesses to enter the market and accelerate growth. Our core services include eCommerce consulting and development, Business solution consulting, Microsoft Dynamics 365 Business Central, and Navision (NAV) ERP Analysis and Implementation, Infrastructure support.
At Sysamic, we value our biggest assets – our employees! Join our Dynamics 365 team now!