Are you still utilizing entry-level accounting software that isn't delivering the outcomes you want? It's time to upgrade your obsolete systems and move your company forward. Finance is one of the most essential pillars of any company, and you can't trust financial management to a software solution that won't expand and will become obsolete with time.
Microsoft Dynamics NAV is a flexible, scalable, and innovative solution that is easy to set up and use. It provides you with the information you need to move your company ahead. There are 10 reasons for the same.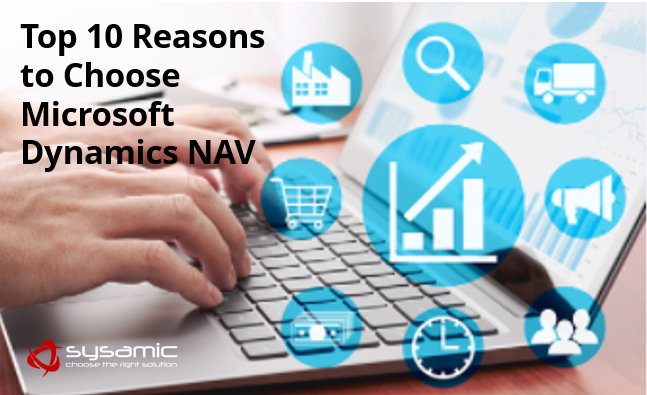 ERP is more than just a Simple Platform
Microsoft Dynamics NAV is a one-of-a-kind set of corporate intelligence, collaboration, and communication applications. It combines fundamental business operations and helps employees to make informed decisions that improve margins and cash flow, both of which are critical for business expansion.
Allows for more Efficient & Intelligent Work
Customized roles in Dynamics NAV allow your employees to access resources that are particular to their job tasks. It integrates with Microsoft tools that your staff is already familiar with, allowing them to work more quickly and efficiently.
Provides a User-Friendly & Familiar User Interface
Microsoft Dynamics NAV has a straightforward user interface that is like that of other accounting programs. This means you won't have to waste time training your employees on how to use the program, and they'll be able to be up and running as soon as Dynamics NAV is installed.
It's a Good fit for your Working Style
Microsoft Dynamics NAV can be tailored to your company's exact requirements. It also has a strong global support network of partners who provide integrated and industry-specific solutions.
Changes the Way You Work and Communicate
Dynamics NAV allows your employees to connect and perform business operations from any place, whether it's in the office or on the road. Employees can also connect with one another via text messages, emails, and phone conversations within the portal.
Encourages & Supports your Company's Expansion
You can simply include new processes and extra lines of business with Microsoft Dynamics NAV, allowing you to grow up and meet increased demands without compromising business performance. This is due to the fact that Dynamics NAV runs the business without putting a load on the IT budget.
Assists you in Remaining on Top of your Game
The adaptive and predictive features inherent in Microsoft Dynamics NAV's embedded business intelligence provide insights that put you in control. You can anticipate pain points and address them without wasting time.
Offers a Variety of Deployment options
Dynamics NAV is offered not only On-premises but also in the cloud. The system also provides the ability to adjust deployment techniques based on the needs of the business.
Reduces the Risk
When looking for an accounting solution for your company, Quotient Trust is critical. Microsoft is, without a doubt, the most trusted brand in the planet. As a result, you can count on world-class security, support, and maintenance with Microsoft Dynamics NAV.
Is the engine that powers your company
Dynamics NAV provides your staff with versatile and innovative solutions that enable them to be more productive and proactive. This implies that your company is continually evolving, and you can stay ahead of the competition.
In fact, with the above important benefits of Dynamics NAV, Microsoft is further strengthening its position in the ERP world. Dynamics NAV is an extremely powerful, complete and user-friendly ERP platform for small and medium business owners, and by adding industry knowledge of the right partner like Sysamic, forms a very strong solution for every company!
About Sysamic:
Sysamic is a modern business consulting company focused on technology, design, and business transformation. In Japan, we have over 20 years of experience supporting businesses to enter the market and accelerate growth. Our core services include eCommerce consulting and development, Business solution consulting, Microsoft Dynamics 365 Business Central, and Navision (NAV) ERP Analysis and Implementation, Infrastructure support.
At Sysamic, we value our biggest assets – our employees! Join our Dynamics 365 team now!