Sysamic, global Dynamics 365 Business Central/Navision technology leader, confirmed an expansion of the Cloud ERP in Japan, by leveraging Microsoft's local data centers in Tokyo. These increased capabilities will assist Japanese customers to transfer ERP workloads to the Microsoft Cloud while enhancing disaster recovery and security capacity, building on a tradition of delivering Microsoft Network services in the Japanese market.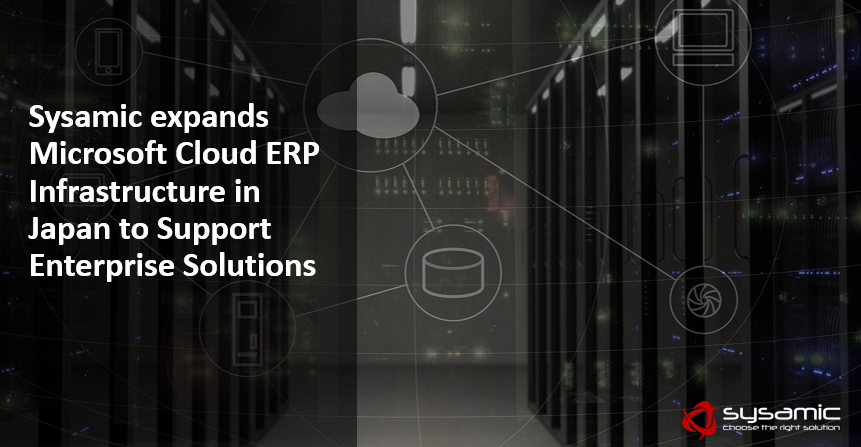 "Sysamic sees Japan as a key market. This expansion enables us to provide our Japanese customers with the full capability of Microsoft Cloud." Sysamic's Founder and CEO and CTO Dan Trask stated. "The most secure platform for creativity and content collaboration available to Japanese organizations is provided by modern next-generation Business Central apps, strategic collaborations and easy integration with key Microsoft office 365 Apps, and enterprise-grade ERP cloud infrastructure."
Microsoft Dynamics 365 Business Central (formerly Navision) is a comprehensive business management ERP solution which ensures business continuity with a cloud solution that connects sales, service, finance, and operations teams to help them adapt faster and deliver results.
Here's a glimpse of Business Central capabilities:
Streamline financial management.
Accelerate sales processes.
Deliver exceptional customer service.
Facilitate project delivery and success.
Drive Supply chain optimization.
Optimize warehouse management.
Provide optimal manufacturing results.
Japanese businesses must comply with new privacy legislation and standards while keeping the flexibility, agility, and capacity for innovation that cloud infrastructures provide. Japanese customers are searching for innovative deployment alternatives that maintain their data and apps in domestic data centers to meet these criteria. Sysamic will now provide customers with a full variety of domestic hosting options as of today's announcement.
In the case of natural calamities such as earthquakes or flooding, Microsoft Cloud ensures that Japanese clients are prepared. With real-time system fail-over functionality between data centers in Tokyo, Sysamic is expanding the disaster recovery choices accessible to Microsoft cloud customers. This improves catastrophe recovery capabilities between Tokyo and the US.
Even the most stringently regulated and security-conscious businesses may quickly use powerful Business Central ERP cloud solutions without having to build their own cloud infrastructure.
About Sysamic:
Sysamic is a modern business consulting company focused on technology, design, and business transformation. In Japan, we have over 20 years of experience supporting businesses to enter the market and accelerate growth. Our core services include eCommerce consulting and development, Business solution consulting, Microsoft Dynamics 365 Business Central, and Navision (NAV) ERP Analysis and Implementation, Infrastructure support.
At Sysamic, we value our biggest assets – our employees!
Join our Dynamics 365 team now!