Accounting, financial planning, production, sophisticated warehousing, and transportation management are all included in Microsoft's enterprise resource planning solution for medium to large businesses, Dynamics 365 for Finance and Operations.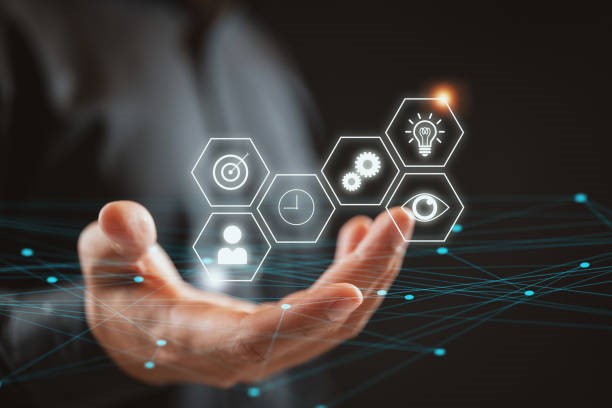 Accounting, financial planning, production, sophisticated warehousing, and transportation management are all included in Microsoft's enterprise resource planning solution for medium to large businesses, Dynamics 365 for Finance and Operations.
Driving Digital Transformation:
Boost productivity by fully integrating Microsoft Business Apps. Transform financial and operational data into precise, useful insights. Increase innovation and ongoing development to better serve customers.
Interesting insights:
Finance: Provide customers with a unified view of your company's performance and client requests to improve income and provide real-time solutions.
Supply Chain: To fulfil client needs, simplify and enhance the supply chain and distribution procedures.
Transportation and warehousing: Allow staff to manage operations more effectively, reduce transportation costs, and increase delivery precision.
By integrating and automating your financial operations with cutting-edge AI, MS Dynamics 365 Finance and Operations enables your business to reduce operating costs and make wiser and quicker decisions. Inside D365 Finance and Operations, customers now have a variety of options for personalising and addressing operational reports.
When I already use a CRM, why should I invest in ERP?
Terms like ERP and customer relationship management (CRM) continue to confuse many SMBs. Managing relationships between businesses and clients is the main purpose of CRM. It helps generate leads, cultivate enduring relationships with customers, and thus boost revenues.
ERP software is far more advanced. It oversees all business activities for the entire company, including client interactions, resource planning, analysis, cost reduction, logistics, and so forth. It aims to be both marketing and distribution as a result. CRM, SCM (supply chain management), HRM (human resource management), and other subsystems' data are combined via ERP.
Even if CRM is useful on its own, integrating it makes it just one of your ERP's features. Also, you have a lot more commercial opportunities with all data linked under one ERP roof. Isn't it good to have a single solution rather than a number of different software components?
What makes Dynamics 365 Finance and Operations a good choice?
Analysts predict that as systems move away from on-premises solutions and towards cloud platforms, artificial intelligence (AI), and the Internet of Things, the ERP market will continue to grow steadily (IoT).
Integrated solutions that provide transparency and understanding into every facet of an organization's operations are valued by businesses more and more. They are looking for cutting-edge technologies that can help them predict how the company will develop both now and in the future. Also, businesses are seeking ways to save costs and stop increasing software strain. All of these requirements are covered by Dynamics for Finance and Operations, which contributes to its popularity among many customers.
Every Microsoft product is very flexible and compatible. As is typical with smaller suppliers, it means you won't waste money and won't have to rely on outside parties for integration and personalisation.
Availability
The most recent version of Microsoft Dynamics 365 is prepared for a variety of hardware, software, and mobile apps. Any installation or customization issues from the past will be rectified. Microsoft Dynamics 365 for Finance and Operations is now even more available thanks to the cloud version.
Cost-cutting
The enterprise edition of Microsoft Dynamics 365 for Finance and Operations helps your company identify unnecessary resources and cut operating costs through automation and optimisation. It's simple to integrate and customise different parts of your business and ERP solution, including CRM, IoT, Business Intelligence, and productivity tools. As a result, your business will spend less on staff training and customisation.
AI predictions
You can improve cash flow, close books more rapidly, and simplify global financial management by using cutting-edge AI approaches. Learn about the demands and behaviours of your customers in detail using data, so you may change your business processes digitally and create more impactful encounters with your clients. With predictive advice and proactive assistance for financial management provided by Finance and Operations D365, you can raise your income and take part in product creation.
Enhanced Interface
The current smart user interface is uncomplicated and simple to use. With the customised activity-based workspace, users can manage assets and processes in real-time.
Built-in Analytics
With improved analytics, enabled by Microsoft Power BI, you can more easily create data, assess reports, and provide real-time visibility into corporate activities. The embedded analytical workspace, which is used to generate reports in Dynamics Finance and Operations through a form extension, is another benefit.
Regular Updates
Regular updates are supported by Microsoft Dynamics 365 for Finance and Operations (every three months for the platform, and every six months for the application). You constantly use the most up-to-date technology; thus ongoing significant implementations are not necessary.
Data Security and Privacy
Data security, disaster recovery (DR), and round-the-clock technical support are all features of Microsoft Dynamics 365 for Finance and Operations. World-class cyber security is offered by Microsoft Azure. You won't be charged more for workload protection, and your data is safeguarded.
The cloud contains everything
Microsoft Dynamics 365 Finance and Operations are hosted on Microsoft servers. That implies lower costs for you to manage your own infrastructure and servers. Additionally, the actual space saved (which can be quite a lot). The flexibility offered by cloud computing allows your business to grow and develop at its own pace. Using Microsoft Azure's features, integrated disaster recovery, and round-the-clock technical assistance ensures cyber security and workload and data protection.
Inclusion
Dynamics 365 for finance and operations integration makes it easier to integrate and customise several businesses as well as productivity software capabilities, such as CRM, BI, numerous IoT apps, productivity tools, and more.        
Manufacturing and Retail Functionality The newest manufacturing and retail functionality includes
 cloud-based point of sale (POS), merchandising and catalogue management options, omnichannel management, eProcurement, royalties, and trade allowances, management of rebates, direct and indirect procurement, multi-site warehouse management, and vendor self-service portal.
About Sysamic:
Sysamic is a modern business consulting company focused on retail technology, design, and business transformation. In Japan, we have over 20 years of experience supporting businesses to enter the market and accelerate growth. Our core services include eCommerce consulting and development, Business solution consulting, Cegid Y2 Retail, Microsoft Dynamics 365 Business Central, and Navision (NAV) ERP Analysis and Implementation, Infrastructure support.
At Sysamic, we value our biggest assets – our employees! Join our team.