Achieve Digital Transformation with Dynamics 365 Business Central
Here's an insight into why Business Central is the modern solution for businesses looking to embrace modern technology, achieve digital transformation and supercharge growth.
Many small and mid-sized enterprises are looking for strategies to make the transition to digital. There are many opportunities to equip your organisation with the tools it needs to stay ahead in an ever-faster digital world, whether it's to streamline operations, enable a more mobile workforce, improve the security of technological platforms, or ensure those platforms stay aligned with internal roadmaps.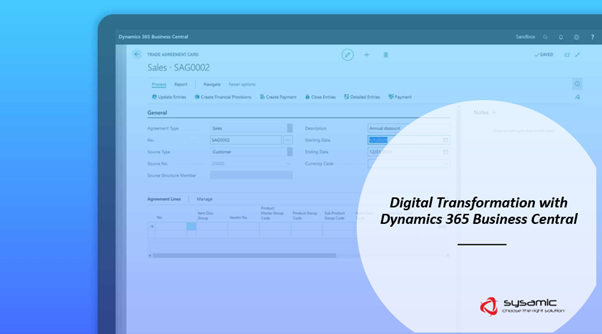 Analysis
Examining your ERP system is a good place to start when it comes to adapting your business in an ever-changing environment. Dynamics 365 Business Central (D365 BC) is one option to explore, as it is designed to assist small and mid-sized businesses with their digital transformation.
Business Central
D365 BC is a cloud-based ERP system that streamlines the management of financials, operations, sales, supply chains and reporting into a unified solution. It has its own built-in business intelligence alongside seamless integration with automation and analytics solutions such as Power Apps, Power Automate and Power BI. This allows you to customize your ERP to be a powerful business tool tailored specifically for your organization.
Microsoft Cloud
Another benefit of using a totally cloud-based ERP is that it can be accessed from anywhere, at any time, on any device – phone, tablet, or computer — ensuring real-time access to data for detecting patterns and avoiding potential problems. You'll have a single source of truth with data on the platform shared instantaneously across all users. So, you're not dealing with out-of-date data.
While having more access is beneficial, you may be concerned (and understandably so) about increasing data and cybersecurity concerns. You can rest easy with a system like D365 BC since it's built on a secure IT foundation that includes built-in identity and access controls, threat prevention, and security management, all backed by Microsoft's strength. Furthermore, the solution is dependable, having been localised in 43 nations and 28 languages. You can prepare tax and compliance reports in any of the supported nations without fear of missing any international rules. So, in a use case like international expansion, you know that you have a system with the capabilities to scale alongside you and not add unnecessary burdens.
GP to BC migration
Migrating from Dynamics GP to D365 BC is aided by a data migration solution that enables for a smooth transfer to the cloud. Microsoft continues to maintain Dynamics GP, so customers shouldn't feel rushed. Many Dynamics partners will continue to promote the GP solution to enterprises.
About Sysamic: Sysamic is a modern business consulting company focused on technology, design, and business transformation. In Japan, we have over 20 years of experience supporting businesses to enter the market and accelerate growth. Our core services include eCommerce consulting and development, Business solution consulting, Microsoft Dynamics 365 Business Central, and Navision (NAV) ERP Analysis and Implementation, Infrastructure support. At Sysamic, we value our biggest assets – our employees! Join our Dynamics 365 team now!