Business owners, regardless of their company's size, need to be able to quickly manage and access their data. While there are a variety of software solutions available for data tracking and management, business owners require more than simply tracking: they require the capacity to put their data to work. The correct software solution will make it easier for business owners to spot opportunities, make the best business decisions, and manage their company. Microsoft Dynamics 365 Business Central assists business owners in accomplishing these and other objectives. Business owners can use Business Central to assess their company's health, uncover business possibilities using data trends, analyse their customer history, and make better business decisions.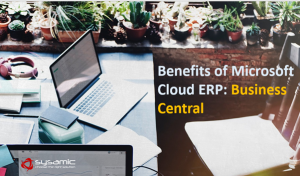 Limited Resources
The key benefit of this Microsoft cloud ERP solution is that you don't have to invest heavily into infrastructure. You don't have to acquire additional servers to host the application or databases, and you don't have to hire staff to install, troubleshoot, and manage hardware and software related with your cloud ERP, CRM, because you're buying a subscription directly from Microsoft as a SaaS provider. All of this is included in your Software As A Service (SAAS) fee.
New Functionalities
By adapting to trends and incorporating new technologies, Microsoft continues to invest in the quality of its ERP software especially Business Central. The most recent developments were recently presented in Vienna, Austria at Directions EMEA. New requirements for functionalities are communicated extremely early and are instantly taken up for development, thanks to the worldwide partner network and the huge and diverse customer base of Microsoft apps.
Get the most out of Office 365 & Power Platform
For years, there has been a well-organized connection with Office 365 products such as Outlook, Word, Excel, and SharePoint. The Power platform, which includes Power Apps, Flow, and Power BI, unifies all tools, and enables cross-product collaboration. Power BI provides powerful Business Intelligence to every end user while also providing advanced options for BI experts. Microsoft has succeeded in allowing ERP to operate exceptionally closely with other apps for optimal benefit with Business Central. This ensures your business is safe and sound in unified Microsoft ecosystem.
Enhanced Security
IT folks, business owners and CIOs used to believe that putting sensitive data in the cloud was against best practises in terms of security. Then they realised that Microsoft ERP cloud could, in most circumstances, provide a more secure environment. They hire the right people to administer the data-protection tools and appliances. They are in charge of testing for vulnerabilities and fixing systems with flaws that have been discovered. Partners like Sysamic will also make it a definite security goal to ensure that their infrastructure complies with global security standards, which are becoming more demanding all the time.
Scalability
One of the advantages that early Business Central cloud adopters like most of Sysamic's clients immediately learned is that it is simple to grow services to match your demands with a cloud subscription. You can easily extend the number of your licence if your company grows rapidly, develops internationally, and so on. The opposite is also true: if your business is seasonal or needs to downsize, you can reduce the amount of your licence to match your present needs.
Improved Accessibility
The basic essence of this Microsoft Cloud ERP is that it can be accessed from any location. This implies that if you have a remote office, a remote workforce, or merely someone who has to utilise the cloud ERP system while at home or at a conference, you may provide them system access.
Support & Maintenance
Because your cloud ERP partner like Sysamic handles the complete maintenance and support, we can typically provide customers with round-the-clock assistance. Unlike on-premises hosting, which may require users to pay support packages, cloud providers typically include this as part of their service, which includes Business Central upgrades. Choosing the proper cloud ERP solution for your company necessitates careful consideration. Due to customisation or sophisticated reporting requirements, on-premises solutions are the only option for few. A cloud-based ERP like Business Central makes perfect sense for organisations who don't want to modify and don't want to spend money on on-premises technology and IT workers.
In fact, with the above important benefits of Business Central, Microsoft is further strengthening its position in the ERP world. Business Central is an extremely powerful, complete and user-friendly ERP platform for small and medium business owners, and by adding industry knowledge of the right partner like Sysamic, forms a very strong solution for every company!
About Sysamic: Sysamic is a modern business consulting company focused on technology, design, and business transformation. In Japan, we have over 20 years of experience supporting businesses to enter the market and accelerate growth. Our core services include eCommerce consulting and development, Business solution consulting, Microsoft Dynamics 365 Business Central, and Navision (NAV) ERP Analysis and Implementation, Infrastructure support. At Sysamic, we value our biggest assets – our employees! Join our Dynamics 365 team now!