Let's get this straight! Companies are putting themselves at danger by using an outdated version of any accounting platform. Dynamics 365 Business Central is the latest evolution of the Dynamics NAV product that is trusted and used by over 180,000+ customers, more than 2.7 million users, and 3,500 partners worldwide. A variety of concerns can develop, including a lack of good support, feature issues, and so on. It's possible that it's preventing them from meeting their goals and providing better service to their clients. Sysamic can assist firms of any size in upgrading their legacy accounting platforms like QuickBooks to Business Central.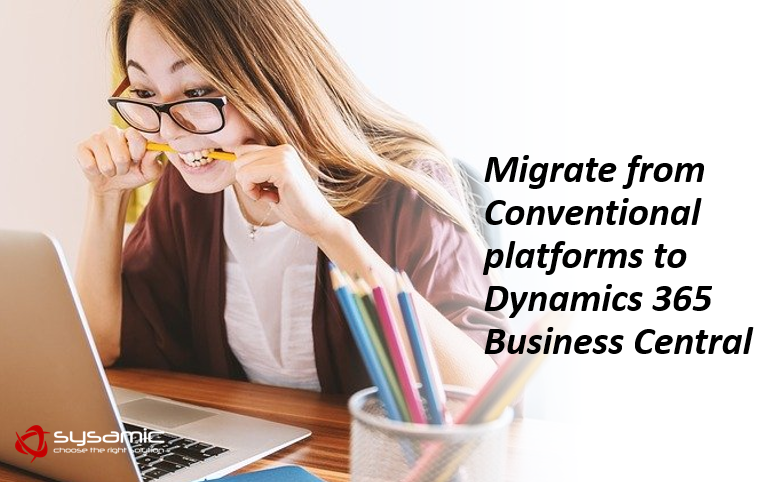 Business Central: An ERP designed for businesses of any size!
Business Central is suitable for all types of businesses and budgets. Our experts can assist you with connecting your activities in the new edition, whether you are a startup or a big corporation.
Reasons to switch to Dynamics 365 Business Central
The current system holding you back
As your business expands, the tools you employ will need to expand as well. This is something that not all accounting or ERP systems can handle. Whether you're using QuickBooks, an antiquated ERP, or a niche ERP solution, your team will eventually be ready to invest in a scalable system. Dynamics Business Central is a clear favorite given it's affordable license pricing and that it is built to handle operations of any size. We have implemented Business Central for teams as small as one user and as big as 500+.
Inability to find the right data
As previously said, it is normal for businesses to operate on a patchwork of diverse systems. Finding the appropriate information in this situation can be a great challenge. You can ensure that your employees have access to the information they require by integrating your whole organisation into a single solution.
Unable to optimize operations
Challenges that were previously difficult, if not impossible, to accomplish become simple once you've settled on a single solution. Routing approvals to the appropriate departments, keeping everyone in the loop, and automating laborious tasks are all natural benefits of using Business Central. Nothing can stop your team from succeeding by integrating your entire organisation into a single solution. Our clients have been able to fully improve their operations and procedures because to Business Central's flexibility.
Leave your Upgrade worries to Sysamic!
If you're considering the upgrade from Dynamics NAV 2013-18 or from Dynamics NAV to Business Central or from any other legacy accounting platforms, then you have landed at the right place.
Over last 20 years, Sysamic has been a prominent Microsoft Partner. We look for Dynamics NAV and Business Central specialists who have the ideal mix of software knowledge and a desire to always learn new things. Our experts come from a variety of professions, including manufacturing, food distribution, and more, to provide you with an insider's view of your ERP system. We've completed hundreds of NAV updates, and we believe our many happy customers speak for themselves.
Here's a quick introduction to Business Central: Video
About Sysamic:
Sysamic is a modern business consulting company focused on technology, design, and business transformation. In Japan, we have over 20 years of experience supporting businesses to enter the market and accelerate growth. Our core services include eCommerce consulting and development, Business solution consulting, Microsoft Dynamics 365 Business Central, and Navision (NAV) ERP Analysis and Implementation, Infrastructure support.
At Sysamic, we value our biggest assets – our employees!
Join our Dynamics 365 team now!